New York's Hudson Valley Training and Trail Riding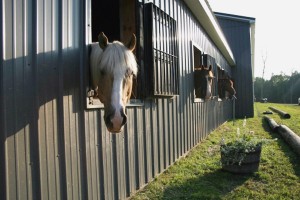 A mere 90 miles north of Manhattan lies the tranquil and bucolic countryside of Dutchess County. Long known and well regarded as a wonderful part of the famous Hudson River valley, the towns in this area exude a charm long forgotten. Winding roads and low lying stone walls extend an invitation for fun driving and exploration and around every corner lies a new treasure, from a stately mansion to markers noting the importance of a particular wooded grove during the Revolutionary War. This is the area that was a haven of rest, peace and sporting activities for likes of FDR, the Roosevelts and the Astors who all have family homes in the area. Springwood, the home of FDR and Val-kill, the cottage that Eleanor Roosevelt used as a retreat from public duties are two of the wonderful homes that can easily be visited when not riding.
It is in this area that you can find some of the best horseback riding and instruction in the northeast. Your base for the week is the quaint town of Millbrook, an unassuming town that is evocative of the villages of a long gone time. The serenity of its' main street and the boutique shops and restaurants infuse you with a sense of relaxation and just beckon for a stroll. That may be a good reason that folks like Liam Neeson, Bette Midler, Katie Couric and Mary Tyler Moore all have homes here. Leaving town, the call of the saddle will beckon you as you drive by farms of 100-200 acres and see the horses peacefully grazing in the pastures lined with wooden fences in all directions.
The riding program is offered by a husband and wife team, Tom and Maddie Duggan. Tom is a BHS certified instructor from Ireland that has made Millbrook his home for the last twenty years and now specializes in teaching and importing Irish Sport Horses and developing them for competition in dressage, jumping or cross country work. Maddie is the avid competitor and can be found at rated shows including HITS, during the show season. They are both consummate professionals and take the development of both their students and their horses as the key to their success. In the winter months, they are both active members of the Millbrook Hunt and are now teaching their two young daughters, Anna and Josephine, the stunning beauty of the countryside on a crisp winters' day.
Each day of this program allows the rider to submerse themselves into their riding. Lessons are geared toward personal goals and include instruction in flatwork, jumpimg or cross country. There are also miles and miles of scenic trails to be explored and with the access to the Hunt trails, they too, offer the chance to jump fences, ditches and stone walls, for those that are interested. The facility has a very large and well lit indoor arena and a very suitable cross country field with ample obstacles for riders of every level. The trail riding is accessed directly from the equestrian center as well.
This program includes three nights accommodation at a lovely and well appointed B&B located in the heart of Millbrook, daily breakfast, five riding allotments which consist of either a semi private lesson or a two hour trail ride and can be specifically arranged prior to your arrival or upon arrival, instructor/guide, horse, tack, a tour of the Millbrook winery and all taxes.
Dates: This program is run every week from Wednesday through Friday. Check in at the B&B is anytime after 2:00PM on Tuesday. Check out is Friday by 12:00 noon.
Rates: $660.00 USD per person in a shared room. (Single Supplement: $250.00 USD)
Private lessons are also offered and can be guaranteed for an additional $25.00 USD per lesson.
Ride Sign Up and Information
To find out more about this ride or to book this ride, please fill out the following form
featured rides
our rides
sample rides