New York's Youth and Adult Camp in the Adirondacks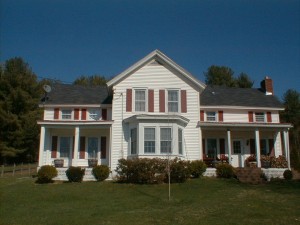 Situated one and a half hours south of Montreal and a mere thirty minutes from the historic town of Lake Placid, Keeseville, NY is a perfect place for kids and adults of all ages to hone their skills and experience the untouched natural beauty of the majestic Adirondack Mountains in upstate New York.
This equestrian center, run by an incredible mother-daughter team, offers some of the best training and riding available to the general public. This trip is a combination program and offers both lessons and trail riding. It is a wonderful program for folks that want to see a pristine part of the country and receive excellent instruction.
Julie Edwards is a lifelong rider and formerly evented through Preliminary and is currently showing dressage at Prix St. Georges. She is a certified American Riding Instructor for both dressage and eventing. Her daughter Tara, has an equally impressive curricula vitae and has competed in eventing extensively including several years at Kentucky's famous Rolex Three Day Event. She is a certified American Riding Instructor and has worked for the likes of Jimmy Wofford and Jessica Ransehausen. Together they offer riding programs for riders of all levels and encourage folks to step out of their comfort zones to the degree they are comfortable.
As an alternative to lessons, they have miles and miles of incredible trail riding. This part of NY is in many ways, the way it has always been which is amazing considering they are only 1.5 hours from Montreal or 2 hours from Albany. The trail rides take you up into the Adirondacks where you have the chance to ride along winding trails through wooded areas where the deer, squirrels and an occasional wild turkey are your only company. Some of the remarkable vistas that you encounter offer views for miles overlooking the lush woods or the bottom part of Lake Champlain. Each day offers different views but all are breathtaking.
Youth Riding Camp Program
Designed for children ages 7-17, the philosophy of this program is to bring the whole world of the horse to the child with all it realities. From early morning feeding to catching, tacking up, grooming, culminating in the beautiful ride through the fields or jumping and back to the reality of untacking, more grooming, cleaning and feeding again. From the beginner who learns the rudiments of horsemanship to the advanced rider, the steps toward the whole horseman will help them on the path to maturity.
This program offers riding twice daily during each session. In addition, each day is filled with all variety of horse activities geared towards developing the knowledgeable horsewoman. Each student has the opportunity to improve riding skills, stable safety, grooming, saddling, feeding and training horses.
This unique program is based on the goals and ideals of the United States Pony Club. Instruction is given in dressage, cross-country and stadium jumping. A protective hardhat is required at all times when mounted. Instruction twice daily in small groups insures rapid progress for each student.
Each child has their very own horse to groom and ride exclusively. It is a very special partnership in which both thrive and learn quickly. These horses are among the happiest and most able for a program such as this, for they are not confused by the directions of all kinds and styles of riders. They are more spirited and of a higher quality than horses that are ridden by more than one rider daily.
By the end of each session, every child will have experienced the wonder and accomplishment that comes from working closely with a horse and creating a true and lasting friendship – a bond that creates a true harmony between horse and human.
It has been said that passion has inspired individuals to become larger than life. Lucky is the parent whose child craves to be around horses. The child appears driven by a higher life form and no substitute can be found. These children are not hanging around the streets, nor do they struggle with decisions about which activity warrants their participation. For them, there is only one true love and all other parts of life are downstream. Their focus leads them on the path of discipline, physical stamina and exercise which will carryover to their adult lives whether or not horses can be a major part.
Their love of horses carries them through the throes of adolescence, while parents of non-focused teenagers worry about poor choices. The horse driven child who is permitted to become a horseman is a little dirty, very tired and ecstatically happy at the end of the day, leaving little room for distractions into other less desirable activities.
Dates:
Session A: 2 weeks June 27 – July 10
Session B: 4 weeks July 11 – August 7
Session C: 2 weeks August 8 – August 21
Rates:
Session A: $2,400.00 USD
Session B: $4,200.00 USD
Session C: $2,500.00 USD
*Any two sessions: $5,600.00 / 8 weeks: $6,600.00

Adult Riding Program
Offered primarily in the spring and the fall, this program is tailored to adults that want to take their riding to the next level or that want to focus on working through specific areas of their riding.
Lessons focus on all aspects of riding from flatwork to jumping and cross country training. Afternoons can be spent relaxing or enjoying the wonderful trail rides which are so inviting in this area. Each day offers a new adventure as the woods and the nearby Ausable River are teeming with wildlife from deer to many species of water fowl – and for those that are anglers, this area is exceptionally well known for its World Class fly fishing.
Dates: This program is offered all year round from Sunday through Saturday
Rates: Please call for rates and information
Ride Sign Up and Information
To find out more about this ride or to book this ride, please fill out the following form
featured rides
our rides
sample rides