California's Wine Country Trail Ride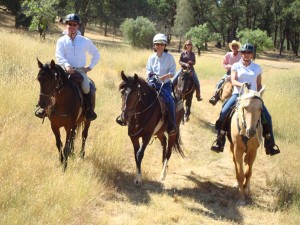 Enjoy the fertile rolling hillsides of California's wine country, riding Tennessee Walking Horses, Missouri Foxtrotters and Quarter Horses. This ride will allow you to discover California's Wine Country with its rugged and breathtaking scenery while enjoying private tours and tastings of award winning local wineries.
Your base for the week is the lovely and historic Tallman Hotel nestled in the heart of historic Upper Lake. This area, home to Clear Lake, Mt. Konicti and valley orchards of walnut groves, Bartlett pear groves and wild rice fields is northern California at its peak.
The wonderful gait of the TWH and the Missouri Foxhtrotter is comfortable for the varied terrain and the fun days in the saddle. These gentle horses are a dream and many clients fall in love with their mount and want to bring them home! Their dispositions make them ideal for experienced riders, folks just getting into riding and even for children. Each day you will ride out on a new trail and see countryside unlike the previous day, all the while enjoying the smooth and wonderful cadence of the special gait.
The trails each day take you on paths and graded park trails that allow you to soak in the amazing countryside. You will see over 100 types of birds including the majestic bald eagle, herons, egrets and a wide assortment of nesting birds. Additionally, the wild hares, with their overly large ears are often as curious about you and your horse as you are about them. The rolling hills with the tall swaying grasses leave you with the feeling of being one of the first explorers in this area. And when you come around the bend and see the crystal blue waters of a lake, with neither a boat or a person in site, you truly do feel like you have just re-discovered this bucolic area.
The packages are 3-night and 6-night riding vacations that include luxurious accommodations at the hotel, evening meals taken at a variety of local restaurants coupled with wonderful local wines acquired during the many wine tastings experienced during your stay (guests may bring their own wine or purchase wine at the restaurant as adult beverages are not included in the package).
This ride is appropriate for riders of all ability levels as well as for families. While the riding is superb, there are plenty of other activities available for non riding family members such as hiking, boating, kayaking and nature exploration.
Dates: June 27-July 3, July 11-17, Sept. 19-25, Oct. 10-16, Oct. 24-30
6 Night Program Rate: $1,760.00 USD per person in a shared, king bedded room
(Single Supplement: $470.00 USD)
*Transfers are not included in this price and are $100.00 USD per person
Shorter programs available upon request, 3 person minimum
Ride Sign Up and Information
To find out more about this ride or to book this ride, please fill out the following form
featured rides
our rides
sample rides