Ireland's Kinnitty Castle Trail Ride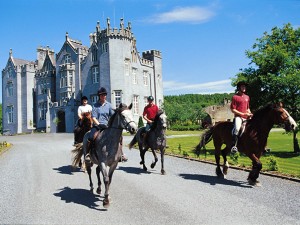 For hundreds of years, Kinnitty Castle has stood in the foothills of the Slieve Bloom Mountains, as one of the three fortresses guarding the lands of the powerful O'Carroll family. Now, it is one of the best appointed hotels and equestrian centres in Ireland.
Kinnitty Castle has all the luxuries of modern life, within a mansion of historical and architectural importance. Each bedroom is large with its own bathroom and views of either the great lawn or Kinnitty Forest. The castle also has an elegant and beautiful dining room, in which you can enjoy your daily breakfast and dinner. Additionally, you have use of the tennis courts and a modern health club facility, located on the premises.
Each day, you will mount your horse, and venture out into the vast 60,000 acre preserve called Kinnitty Forest. It is filled with deer, pheasants, badgers, songbirds and streams. Kinnitty Forest consists mostly of pines and hardwoods, with many interesting trails cut through the lush vegetation. Riders will find trails wide enough for brisk and exciting gallops, while a slower pace will reveal the natural beauty of the ancient forest. This is Ireland much as it was a thousand years ago.
You may travel to the fascinating Leap Castle, "the most haunted castle in Ireland" and possibly hear the famous owner play his tin whistle. You may also venture to the ruins of Saint Kierans Abbey, which dates back to the year 839.
After riding, it is back to Kinnitty Castle for a hot bath or shower, a refreshing drink in the warm and cozy library, a delicious meal in the dining room and perhaps a stroll around the grounds. Entertainment (in the Dungeon Bar,) is sometimes provided by traditional Irish musicians, who sing songs of brave deeds and lost loves.
Dates: July 4-10, July 25-31, Aug. 8-14, Aug. 22-28, Sept. 5-11, Sept. 19-25, Oct. 3-9, Oct. 17-23, Nov. 7-13, Nov. 14-20
(2 person minimum to run the trip. Other dates available upon request.)
Rates: $2,185.00 USD per person in a shared room. (Single Supplement: $595.00 USD)
Includes: 6 nights accommodation in the castle, All meals, 5 days of guided trail riding, horse, tack, guide and all taxes.
Ride Sign Up and Information
To find out more about this ride or to book this ride, please fill out the following form
featured rides
our rides
sample rides