Florida's Reining Clinic with NRHA Judge Dave Moore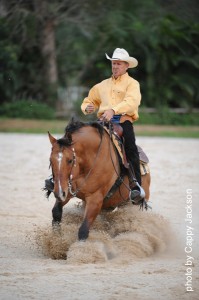 Whether you are a veteran Reining competitor or someone that wants to experience Reining for the first time, this program is designed for folks at all levels.
One of the fastest growing riding disciplines, Reining has wide appeal to both Western and English riders. Often referred to as "Cowboy Dressage", Reining, like Dressage, requires smooth and virtually effortless looking execution of patterns. Reining is a judged event designed to show the athletic ability of a ranch type horse within the confines of a show arena.
In NRHA competition, contestants are required to run one of ten approved patterns, included in the NRHA Handbook. Each pattern includes small slow circles, large fast circles, flying lead changes, roll backs over the hocks, 360 degree spins done in place, and exciting sliding stops that are the hallmark of the reining horse.
The NRHA Judging System is recognized as the leading format for judging an equine event that combines technical and stylistic elements coupled with consideration of "degree of difficulty". And as a testament to the success of this system, many segments of the equine judging discipline have openly embraced the NRHA Judging System.
Riders will train with NRHA judge Dave Moore, who has been a part of the horse industry for over 25 years and was most recently featured on the November 2009 cover of Horse & Rider. He also had the winning run at the 2009 Florida Derby. After graduating from the State University of New York at Morrisville with a degree in Horse Husbandry, Dave went on to work as an apprentice and assistant to Terry Thompson for two years. He won his first Appaloosa World Championship title in 1982. Dave has ridden and coached numerous National and World title holders in equitation, pleasure, western riding and reining. His primary goals and interests are heavily tied to the NRHA. He is currently a carded judge for the ApHC and the NRHA. Dave has the ability to not only prepare the horses but to truly educate his riders and his style of teaching and communication are clear, motivating and encouraging to riders of all levels.
Located in Southwest Ranches, FL, this clinic is easily accessed by either Fort Lauderdale or Miami airports. For those that want to haul in, the ranch is located a very short distance from I-75, just west of Hollywood. Attendees will stay at a new hotel about a three minute drive from the ranch and may enjoy the sites of Fort Lauderdale (15 minutes by car) or South Beach (45 minutes by car) when not training.
Dates are limited to 6 riders per clinic and include three hours of mounted and theory discussion daily.
Dates: May 31-June 4, Oct. 24-30
Rates: ***Promotional Rate for 2010 Dates – $1,035.00 USD per person in a shared room
(Single Supplement: $360.00 USD)
Ride Sign Up and Information
To find out more about this ride or to book this ride, please fill out the following form
featured rides
our rides
sample rides